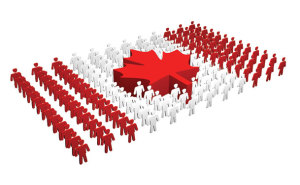 Like many organizations in recent years, company's are either considering the Canadian market as an area to expand to, or have acquired a Canadian operation and are now looking for ways to maximize its performance while limiting liabilities. With its robust economy, skilled labour, and proximity to the US, many companies come to Canada with great ideas, technologies, and potential, facing a unique environment with opportunities available nowhere else.
The unique aspects of operating in Canada are reflected in the HR practices, employment related legislation and labour laws. For example, is your business federally or provincially regulated? What's the difference between the Employment Standards Act (ESA) and common law when it comes to termination? Exempt and non-exempt status doesn't exist in Canada, so who qualifies for overtime? If companies operating in Canada are not fully knowledgeable about the employment-related challenges inherent in doing business here, they take significant risks. Likewise, it is possible for foreign or US-based HR teams to unintentionally make mistakes just by doing the same things that have worked well in their home countries.
We help foreign based head offices manage their Canadian HR issues helping to navigate the various HR regulations in Canada to maximize your employees potential while limiting potential liabilities.